DLF Avenue
Larger than life experience,
in few words!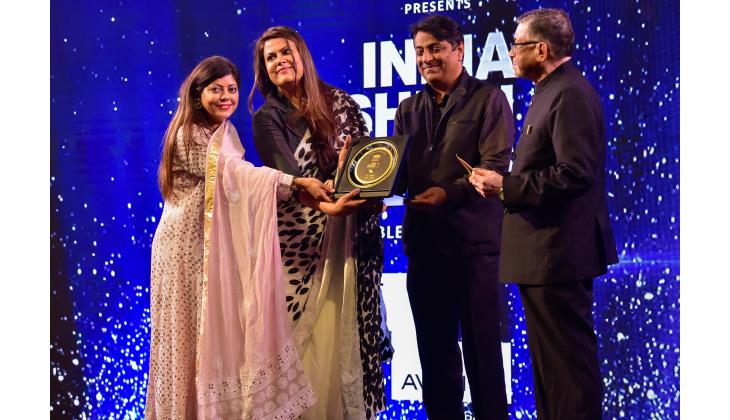 An award or felicitation is a symbol of recognizing one's effort in the journey towards a remarkable destination, which ultimately sets goals and agendas for the next generations to follow Conceptualised by Team Talent Factory and presented by Rajnigandha Pearls India Fashion Awards in association with DLF Avenue, India Fashion Awards is a platform that recognizes the efforts of those unsung heroes who have devoted a major part of their lives for the fashion fraternity and brought fame to the country.
India Fashion Awards recognises creativity and innovation celebrating exceptional contribution of individuals whose imagination and creativity have broken new ground in fashion, the brands and businesses that have made a significant contribution to the fashion community in the past year in India and the amazing artists who curate the glamorous fashion shows. Rajnigandha Pearls India Fashion Awards in Association with DLF Avenue curated by Talent Factory established a benchmark with its debut edition today, on 20th February, 2020. Rajnigandha Pearls, as the title sponsor, takes immense pride in the fact that this fashion awards could draw the attention of the style enthusiasts.
Being a brand that identifies itself with the dazzle of shining goodness, Rajnigandha Pearls was glad to gain considerable leverage from the splendour that's associated with fashion as a category. Being true to its core philosophy, the brand celebrated the selfless goodness of those who work towards making a fashion event a success, through appreciating their efforts that mostly go unnoticed.
The brainchild of Sanjay Nigam, Founder Team Talent Factory says: "Fashion is the most influential form of non-verbal communication and this is where we find sync with India Fashion Awards 2020, where we are awarding and honouring the achievers in different fields of the fashion industry and especially the ones who work tirelessly behind the stage." Adds Mr Sanjay, "IFA aims goodness in fashion fraternity and that's where Rajnigandha Pearls comes into the picture as the brand associates itself with goodness and believes that goodness can only be measured through our good deeds and kind demeanour."
So, finally the dream came true!!!But the road to the dream was not that easy,India Fashion Awards 2020 would never be forgotten thanks to mother nature and the strength and unity of the fashion industry. We would like to thank our sponsors and partners for believing in our vision. We would once again thank each and every person who was involved in this initiative, be it the Jury, Advisory, Nominees, the Guests, or the team working on it. This event would not have been possible without any one of you, thank you for your support and participation thank you my team, friends, family and Mr. Vagish Pathak ji."adds Sanjay Nigam
The Jury cum representing panel comprises of Maneka Gandhi, Promoter Varun Beverages Ravi Kant Jaipuria, Vagish Pathak, Designer Leena Singh, Lubna Adams, Rocky S, Pushpa Bector, Photographer Hemant Khandelwal, Rahul Dev, Lakshmi Rana, Former Miss Romania Anca Verma, Fashion Editor Nupur Puri. Some of the Award categories are – Iconic Designer of the Year, Fashion Stylist of the Year, Legendary SuperModel, India's Emerging Talent – Men & Women and many others.
Speaking about the association, Ms. Pushpa Bector, Executive Director, DLF Shopping Malls said, "We are glad to host a coveted event like India Fashion Awards at DLF Avenue, Saket. With a surge in fashion consciousness among the Indian millennials, we aim to bring in the best of brands that will transform the possibilities of fashion today. Our vision for the revamped mall is to bring communities together and this is one of the biggest platforms where the fashion fraternity will come together to celebrate the outstanding contribution towards the industry."
Muckth Dograa, Centre Head, DLF Avenue Saket added, "DLF Avenue will be a front runner in curating distinct experiences for the mall visitors. With an inclination towards showcasing the latest fashion trends, we are proud to be associated with India Fashion Awards which recognizes the efforts of individuals and their talent in the fashion community."
On the Occasion Make Up Artist Ambika Pillai and the Winner in that category said "It was a grand massive event with the fashion fraternity there in full strength from Mumbai and Delhi ...was great to see the legends step up for their awards ..Rohit Bal, Manish Malhotra, Tarun Tahiliani etc..it drizzled and finally rained but no one went anywhere ..It was the craziest award night i have ever been to because i came back home drenched but happy with the award in my hand.
Speaking on the initiative: Lakshmi Rana says it's a great initiative by Sanjay Nigam and Team Talent Factory to have a vision and thoughts for the fraternity. This is just the beginning and IFA each year will definitely boost the spirits and raise the bar for these unsung heroes of the Fashion fraternity.
DLF Avenue is bringing together the best of Indian and international fashion and apparel brands across fast fashion, athleisure and ethnic fusion. It has curated millennial-oriented brands such as Under Armour, Go Sports, Superkicks, Nykaa Luxe and more. The all new DLF Avenue will see the presence of new marquee brands, such as Uniqlo and Marks & Spencer opening their flagship stores along with many others.The exciting event will take place at Delhi's much-awaited holistic experiential destination – 'DLF Avenue' which will open in its new avatar of a modern-day shopping experience that brings the community together by offering focused, curated shopping, an unrivalled F&B district and inspiring cultural experiences.