DLF Avenue
Larger than life experience,
in few words!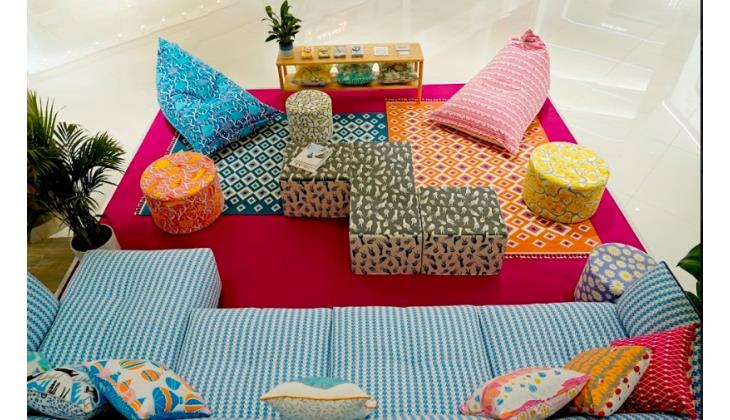 When we say, "What happens in Delhi, happens right here," we're saying that DLF Avenue is Delhi's only carefully curated destination, where you can experience the best of shopping, dining and culture. Shopping sprees, dining dates and cultural events - all taken to the next level.
For us at DLF, focussing on innovation means that every DLF property not just cuts through the clutter but becomes the cream of the crop. Be it in terms of differentiated experiences, or how they're delivered - we're always keeping it new and fresh to our ever-evolving target group.

DLF has pioneered the retail revolution in India. Trailblazing and forever transforming the landscape, DLF presented DLF Avenue- a first-of-its kind social & retail space in the capital that aims at 'unmalling' the quintessential mall experience and values quality over quantity
Today, malls are evolving into community spaces, becoming millennials' one-stop-shop for the best food, entertainment and brands. This means it transforms from a shopping centre to a hub - where everyone comes to socialise, rejuvenate and celebrate.
We've long felt the need to introduce this new concept of a retail dining and culture space where everyone comes together, gets together, with all the freedom to work, play and dine in the same space. With an investment upwards of Rs. 100 crore, we've reformed DLF Avenue Saket from the concept of a mall to a bustling hub- with distinct offerings catering to every millennial's core needs.
There are several firsts that DLF Avenue showcases in the capital. While the location of anchors and mini anchors were kept at the heart of the massive renovation, DLF Shopping Malls for the first time in the country, did away from the concept of tired and traditional food courts and established capital's leading and popular restaurant as one of its anchor right at the entrance of its food district- COMMONS. The space for food and beverages (F&B) has increased to 28 per cent from 12 per cent earlier. This is something we've long envisioned to be a success, because it's this blend that creates a social space for everyone of all ages to come, eat and rejuvenate.
DLF Avenue introduced COMMONS as Delhi's first dedicated F&B District with its own dedicated drop off, hosting most popular restaurants, bars and cafes spread over three floors. This curation thrives to give the audience a truly tasteful fulfilling dining experience and clearly making food the new fashion. It is the best curated food & beverage experiences covering casual dining, global dining, best in Asia offerings and all restaurants in their one-of-its-kind format which extend to patio style sitting.
The F&B curation is something that DLF Shopping Malls put a lot of thought into as it envisioned to bring together Delhi's first dedicated F&B district – housing nearly 30 F&B offerings spread over three floors. Leveraging the strong relationship, it has with the best F&B operators of the country, it is confident of exceeding the expectations of consumers who increasingly crave and seek to indulge in newer and varied gastronomic experiences.
The idea here is not just to have something for every palate. It is as much to linger in a space, to have groups of all ages find their comfort zone, their new favourite social space.
Not just this, DLF Avenue demonstrates its prowess in the treatment of public spaces. We have worked extensively - on design. Crafting a space so unique that makes shopping a bigger social experience by turning an arcade into a sit-down hub, making comfortable nooks and by replacing mindless window shopping with efficient and meaningfully curated retail, get people to genuinely enjoy a day or evening out - this is the intent of our Social Steps an architectural interior landmark for everyone to sit, unwind and take their own time. Slowing down has its own benefits, after all.
The retail side of DLF Avenue witnessed a revamp of brands. In fact, 70 percent of all our brands are shiny and new and making their debuts, adding to the shine and energy of the space. There are total 100 brands of which most of them are new, and the retail complex would help generate direct and indirect employment opportunities of over 1,500 people.
Having so many new tenants allows us to focus on a carefully curated experience with the right mix of shopping, dining and culture. The cliched Delhi shopping experience will soon become a thing of the past.
When it comes to fashion and apparel, we've deliberately curated a mix of Indian and international brands. Be it fast fashion, athleisure, or ethnic fusion, they're all within walking distance of each other. Millennials have their pick of Under Armour, American Eagle, Super Kicks, Replay, Superdry Sport, Ancestry, Anokhi, Go Sport, Ritu Kumar, Mulmul, Minizmo, Forevermark, MAC, Kiko Milano, Skechers, Jack & Jones, Vero Moda, Lenscrfaters, Sunglass Hut, Nykaa Luxe, The Body Shop, Kama Ayurveda and many more to choose from. Not to forget iconic global brands like Uniqlo, Marks & Spencer and Forever-21 opening flagship stores.

All this comes with Cinepolis bringing a five-screen cinema multiplex, bringing you back to the this new space for ever-increasing, ever different reasons.

No such hub is complete without its fair share of curated events. Live At DLF Avenue, our new cultural space for music, art, live sports and food, does just that and more. In only a few months, we've brought in more and more patrons who are curious about food, fitness, music, sustainability and even fashion.

When it comes to design, DLF Avenue stands out with its new minimal look and vibe. Everything, from the position to the placement of all retail outlets, is kept to ease our patrons' minds. All similar outlets of the same category, be it ethnic fashion or athleisure, they're all closer to each other.
Ever since the launch of DLF Avenue, we have offered customers and patrons unique cultural experiences built around the central pillars of this destination. From BeGoodTribe, to hosting Second Edition of DLF Food Excellence Awards 2020 curated by World On A Plate and headlined by legendary Chef Marco Pierre White, these awards were hosted by Maria Goretti recognized the "best-in-class" F&B brands and individuals; to a month long line up of musicians and popular brands that attracted millennials and Gen Z craving for connections and entertainment all at the same time.
For the fitness enthusiasts in the city DLF Avenue held India's biggest fitness festival, Superdry Re-Ignite. The two-day festival witnessed opportunities to train and learn from the leading experts in the fitness industry and concluded with the Indian edition of the world's biggest grappling tournament- ADCC India National.
The focus on continuous innovation has ensured that DLF properties are able to stand out as a unique entity on account of the differentiated consumer experiences that they offer and deliver. DLF Avenue aims to take consumer retail experience several notches higher and continuously explore opportunities to enhance the shopping experiences of the city.
If there's one thing we want you to remember, it's this - the more you come to DLF Avenue, the more reasons you'll have to come back.