DLF Avenue
Larger than life experience,
in few words!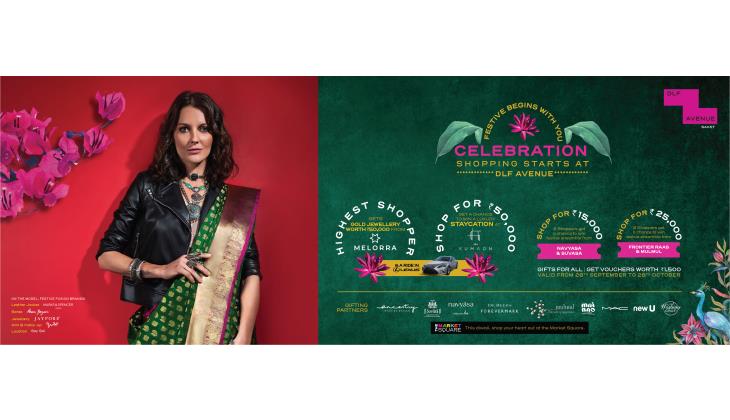 The festive shenanigans have begun at DLF Avenue. We have some super exciting offers coming your way and this time too we have thought well about all your festive needs, be it gifting or be it shopping for yourself. DLF Avenue has something for everyone.
Let's spice things up this festive & wedding season and get you dressed up differently!
This Festive Season 2022, DLF AVENUE is bringing a bouquet of surprises for its fashion lovers. Since they say that your fashion is your signature therefore, DLF AVENUE is inviting you to shop and create your own festive fusion styles the latest festive collection available across DLF AVENUE.
What's different this time, you ask? Read below!
This festive and wedding season try something new, shop fusion looks from your favorite brands across DLF Avenue such as Marks & Spencer, Meena Bazaar, Jaypore, Uniqlo, Guess, Mulmul, Kalpana, Suvasa, ONLY, Vero Moda and get your tresses done at tweak. Blend the soothing and subtle Indian textures and styles with the Western charm to give a whole new look to your outfit.
That's it? No no no, DLF Avenue has much more for you in store. Festive fusion does not end here!
DLF Avenue has exciting offers to make your Diwali full of excitement and a lot of goodies. Just head to DLF Avenue Saket and shop your heart out. We are here to satisfy all your shopping pangs, so keep growing the hunger and read on all the offers.
Offers to make you happier and your Diwali brighter!
Shop for INR Rs 15,000 and 2 lucky winners stand a chance to win a surprise festive ensemble from 'Navyasa' and 'Suvasa'
Shop more to win more!
Shop for INR Rs 25,000 and 2 lucky winners stand a chance to win a surprise festive ensemble from 'Frontier Raas' and 'Mulmul'
Shop further to win even bigger!
Shop for INR Rs 50,000 and get a chance to win a luxury staycation at 'The Kumaon' and an exhilarating ride in Lexus.
Here is a little on what you can expect on your luxury staycation. Surrounded by undulating hills and imbued with simple elegance, the property is spread across 10 luxurious suites, nestled in pairs across five structures with private overlapping terraces offering views to the Great Himalayan range.
The main building hosts a lounge, spa, and library, and a cantilevered dining area suspended over the valley below.
Will you be the highest shopper? DLF Avenue will make your eyes glisten with this offer!
The highest shopper gets gold jewellery worth Rs 50,000 from 'Melorra'
Melorra designs jewellery for your wardrobe. The brand offers fashion-inspired designs. Playful. Comfy. On-trend - Melorra is made for casual-dos, parties and work.
Tough luck? Don't worry, we have gifts for everyone!
Don't worry if you and luck don't hold hands often, we have gifts for everyone. Every shopper who shops for INR Rs 15,000 or more gets vouchers worth Rs 1,500 and an assured gift from participating in-house brands. Check out what our gifting partners have for you in store!
Ancestry | De Beers Forevermark | Suvasa | Navyasa | Mulmul | Mai Bao | M.A.C | NewU | The Wishing Chair
This Diwali shop your heart out at Market Square DLF Avenue Saket!
Come and shop from some inspiring homegrown entrepreneurs with some really insightful offerings.
Please note that all the offers are valid from 28th September to 28th October, 2022.
Are you still reading? Why don't we see you here? Visit DLF Avenue Saket today!
DLF Avenue Saket, wishes you a very Happy Diwali!