DLF Avenue
Larger than life experience,
in few words!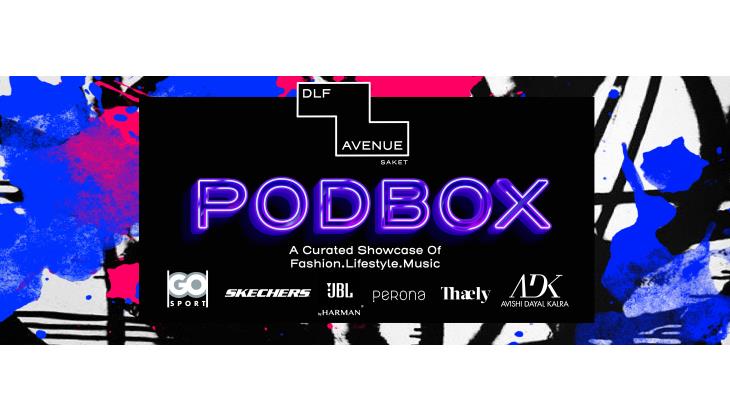 A curated showcase of Fashion, Lifestyle and Music
With Go Sport, Skechers, Perona, Thaley , ADK and our music partner JBL
Over the years, sports aesthetics have had a huge impact on fashion and style. The universal activewear trend, which includes anything from polo shirts to lounge pants, is refreshing & comforting sans any compromise on style. In addition, with the Covid-19 pandemic and the world's accelerated movement towards holistic well-being, the desire to wear comfort-clothing has naturally increased. With this, Delhi's vibrant social address and landmark for shopping, dining & culture, DLF Avenue, is bringing an exciting experiential retail concept – POD BOX – from Sept 27th to Oct 7th, 2021. The 10-day curated showcase will be a Pandora of new-age active & streetwear , lifestyle wear and Music essentials for the Gen Z bringing trends from all over the world under one roof.
A one-stop-PODBOX for all things Lifestyle wear, the shoppers can buy comfortable yet voguish activewear, streetwear & essentials at POD Box from a plethora of eminent brands such as GO Sport, Puma, Skechers, JBL, Thaely, ADK. This curated showcase aims to offer a one-of-a-kind immersive experience like no other. From Skechers new line with famous actor Sidhant Chaturvedi, ADK's showcasing its Drop 1 collection inspired by the construction work wear, Thaely's activation of lifewear with recyclable bags of plastic bottles, Perona's customised accessories, Go Sport featuring Puma's cutting edge supercritical foam technology Nitro. For the entertainment bit, JBL has set yo its Experience Zone where one gets to explore JBL's ANC Range of headphones along with critically acclaimed portable audio products first-hand. Participating brands also plan to do interesting activities over the weekend making POD BOX a truly cool innovative space to explore at DLF Avenue.
So, save a date with your friends and family to visit DLF Avenue Pod Box for an experiential shopping.