DLF Avenue
Larger than life experience,
in few words!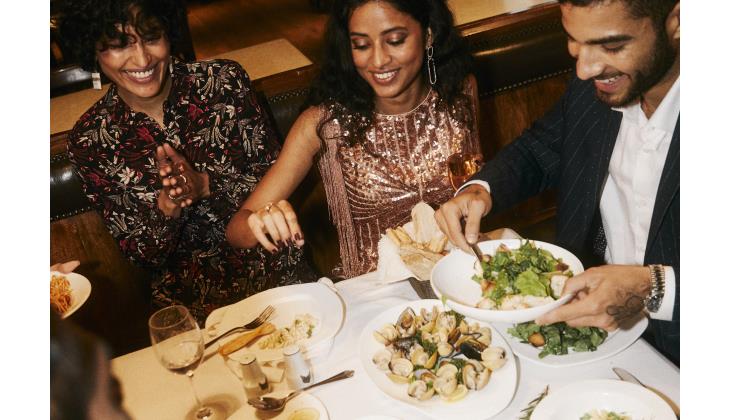 Lately, if you find yourself browsing the "best restaurants in Saket" and "best places to eat in Delhi" on the internet for hours it's because the celebration season is finally upon us and even though we totally support your passion for trying to find "fun things to do" in the city, we just have to ask - Why even bother?
Well let us explain ourselves, we mean to say that when the hottest get-together spot in the city "Commons at DLF Avenue" is all set to host the biggest celebration feast of the season then why would anyone have to look someplace else.
And thank god it's Commons because every Delihite knows that when it comes to celebrating special occasions in the city, no other place can come close to matching the vibe of Commons at DLF Avenue.
Here are the best restaurants in Delhi that you can visit to celebrate a memorable festive season feast. Also, stick till the end for we have an exclusive festive season surprise for you at the end!
Cafe Delhi Heights
Cafe Delhi Heights at DLF Avenue Commons is one restaurant that has become synonymous with "quality family time". With their delicious menu, the place has won hearts all over the city and their incredibly courteous service staff has made the place a must-visit destination for big family gatherings. If you are looking to enjoy a memorable dining experience with your loved ones then this is the place for you.
Cuisines: North Indian, Continental & Chinese
Popular Dishes: Juicy Lucy Burger, Paneer Kathi Roll, Garlic Bread & Noodles
Known For: Family Gatherings, Cleanliness & Delicious Taste
Where: M - 404, Ground Floor - Commons
Chilli's
It's impossible to initiate any discussion about Commons without mentioning Chilli's Bar & Grill. Regarded by many as the best fast food restaurant in the city, Chilli's at Commons is known for its ability to host the most enjoyable times for friends and family. The cosmopolitan vibe of the place makes it a must-visit for folks who are looking to celebrate the festive season with great style and big smiles.
Cuisines: Mexican, American & Italian
Popular Dishes: Classic Nachos, Southern Smokehouse Burger & Minty Melon
Known For: Vibrant Ambience, Good Service & Parties
Where: 161A-163, Ground Floor - Commons
FIO POP
Special occasions like birthdays and anniversaries can be made further enjoyable by celebrating them with all your favourite humans. FIO POP at Commons gives you that comfort to host a memorable birthday party with your entire gang. Also, like us, if you share a relentless love for delicious pizzas then FIO POP at Commons is where you should be this weekend.
Cuisine: Continental
Popular Dishes: Smoked Chicken Puff Pillows, Wild Mushroom & Goat Cheese
Known For: Great Decor, Groovy Atmosphere & Affordable Menu
Where: 222-224, First Floor - Commons
Mai Bao
One does not simply visit Commons and go home feeling unsatisfied. With restaurants like Mai Bao, the place is able to satiate the flavour needs of even the most adventurous foodies and gastronomes. This festive season, give your dining experience a flavoursome twist by relishing authentic Singaporean street food right here at Commons in DLF Avenue.
Cuisine: Singaporean Street Food
Popular Dishes: Pomelo Salad, Popiah & Singapore Chilli Crab Dimsum
Known For: Colourful Decor, Comfortable Atmosphere & Hygiene
Where: 164-166, COMMONS - Ground Floor
Savya Rasa
Enjoy culinary delights from different parts of Southern India in Savya Rasa restaurant at Commons. Known for masterfully encapsulating the true nature of South Indian cuisine in its menu and decor, Savya Rasa puts forward dishes that are equally exotic, exquisite and exciting. A great place to enjoy the best food in Delhi with all loved ones at an affordable price.
Cuisines: South Indian
Popular Dishes: Mutton Nenjumbul Rasam, Kozhi Ghee Roast & Kongu Mutton Biryani
Known For: Large Servings, Affordable Menu, Family Crowd & Good Music
Where: 242, First Floor - Commons
The Tangra Project
Apart from being the latest entrant in Common's long list of restaurants, The Tangra Project is a special place that embraces the rich culinary heritage of India and serves flavours that are heartwarming and soulful. While most of the menu is inspired by the Hakka community of China, the musical performances are a celebration of indie folk-rock and country music.
Cuisines: Chinese & Bengali
Popular Dishes: Egg Chicken Darjeeling Momos & Cholar Dal
Known For: Live Kitchen, Polite Staff & Exotic Flavours
Where: 154-159, Ground Floor - Commons
Dhaba
Dhaba at Commons recreates the delicious vibe of mainstream Dhaba with its spicy food and vivid decor. With flavours from around North India being served under one giant roof, it's safe to say that Dhaba is a place that keeps no holds barred in curating a mouth-watering experience and that's exactly what you need to make your celebrations memorable. Also, regarded as one of the best restaurants in Saket.
Cuisines: North Indian & Mughlai
Popular Dishes: Biryani, Chicken Platter, Tawa Mutton & Thandai
Known For: Dhaba Feel, Great Service & Large Gatherings
Where: 225 - 226, First Floor - Commons
BIG SURPRISE - Your Favorite Restaurants At Commons Are Now Open For Dine-In
After weeks of staying apart, now you can yet again savor your favorite meals from the comfort of your favorite food destination - Commons at DLF Avenue, Saket.
So, if you are looking to celebrate your special days in a way that's thrilling and satisfying at the same time then it's necessary that you visit your favorite restaurant at Commons to enjoy delicious food and beverages.
…
With flavours from around the world being served under one giant roof, it's safe to say that Commons has a place for every taste and that's exactly what you need to make your celebrations memorable.