DLF Avenue
Larger than life experience,
in few words!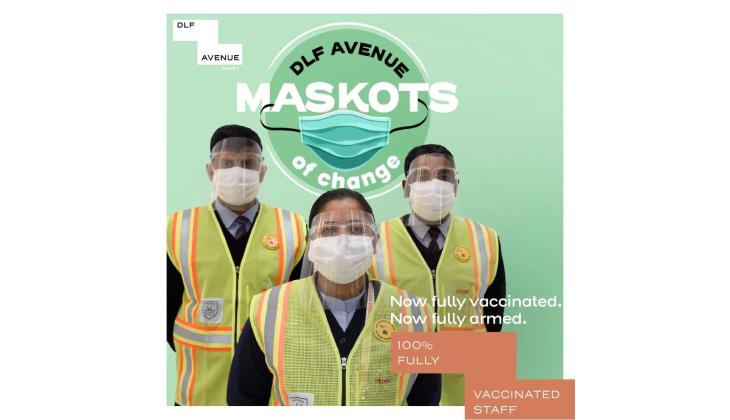 There is no denying the fact that
DLF Avenue Mall
, Saket has always kept customer safety as the top priority. Even before the pandemic, the place was known to shelter a safe and community friendly environment for people from all across Delhi & NCR.
And during the initial COVID waves, DLF Avenue reshaped itself to serve customers in a way that upholds their health and safety at all times.
From hygiene to social distancing, every aspect of precautionary measures was fine-tuned to contain the spread of the COVID-19
However, now DLF Avenue Mall has gone even further in upholding customer safety to the maximum extent possible. We have officially taken charge as #MASKotsofChange to provide a safe environment for you and your entire family.
DLF Avenue Mall As MASKots of Change - What does it mean?
We at DLF Avenue Mall take pride in the efforts that go into ensuring the safety of our customer.
Hence in line with the government protocols, we adhere to all the covid safety guidelines and make sure that our customers are able to enjoy a memorable day at the mall while following all safety advices.
And here's how we are making sure that it all happens.
You Can Count On Us! - Our Action Plan
100% Fully Vaccinated Staff
Now just not what we are saying but the official government authorities have also recognized DLF Avenue Mall, Saket as a place that is fully vaccinated. In order to curate a safe shopping experience for our customers, we have done our bit to get our entire staff vaccinated to the last individual.
Temperature Check & Sanitization
All our entries are safeguarded with trained professionals who make sure that temperatures are being recorded for every individual. Either be the car entrance or the main entrance, temperature checking and sanitisers are available across the entire place.
Authorized Health & Safety Mentors at the Entrance
Not just temperature checks and sanitiser stations availale within reach but our entrances are also safeguarded by trained staff- our safety marshals who carefully scan the entries to ensure that individuals without masks aren't allowed.
Moreover, they keep a watchful eye at the slightest hint of symptoms being shown by anyone and take necessary actions.
Don't Forget Your Mask But If You Do Then It's OK
We appeal to all our customers to not step out of their houses without wearing a mask but we also understand some slips can happen. And because we don't allow people to take entry without wearing a mask, we certainly have their back in making sure that they are provided one at the entry.
Hepa Filters Are Installed All Around the Mall
Apart from the things one can see, there are also some silent protectors that work in the shadows to help provide a safe and comfortable shopping experience for your entire family. And Hepa Filters are one of many such silent protectors that we have installed.
With a special ability to capture bacteria and viruses including that of Covid 19, Hepa Filters are a necessary tool that plays a crucial role in the new normal.
Our Health Marshals Are Always Within Reach
We have deployed our health marshals on every floor to ensure that not even a single safety guideline is being broken. Not only will the health marshals remind you to wear masks at all times but also they will always be within reach to provide prompt assistance in any case if required.
Enjoy Your Food Without Any Uneasiness
All our restaurants at DLF Avenue and also at Commons have been directed to follow a sitting arrangement plan that maximises customer safety and minimizes risks. Moreover, staff members have been strictly instructed to wear proper protective gear at all times including face masks, gloves and veils. Tables will be sanitized at regular intervals and hygiene at the premises has also been stepped up.
All that and much more is being done to make sure that you enjoy a great food experience without any doubts or apprehensions. Visit today to enjoy an anxiety-free experience at your favourite food destination -
Commons at DLF Avenue
.
Spreading Awareness With Safety Content
In order to spread awareness amongst customers of all ages, we have been playing safety content on our screens around the entire mall. From social distancing guidelines to proper face mask discipline, the content at all times will keep reminding everyone of the appropriate behaviour.
Not Just Stores Too But Also the Loo
In addition to equipping all our stores with temperature checkpoints and sanitiser stations, we have also taken necessary action to step up the hygiene in our washrooms as well. Right from alternative washroom stalls, sensor based taps and hand dryer we have ensured that washrooms also remain safe.
No Contact Digital Payments Are Being Encouraged
We have taken measures to make available all types of digital payment gateways for our customers during shopping. Digital payments reduce that risk of contact and help you shop seamlessly without breaching the circle of safety at any cost (pun intended).
…
Now, do you get our point? While adhering to the guidelines, getting the entire workforce fully vaccinated within the premises we have really been the #MASKotofSafety. Amid the new normal, we are bringing to you curated experiences across shopping, dining and culture so you could continue to enjoy memorable moments with us.
Keep checking this space for more because we will always have something new in store for you always!