DLF Avenue
Larger than life experience,
in few words!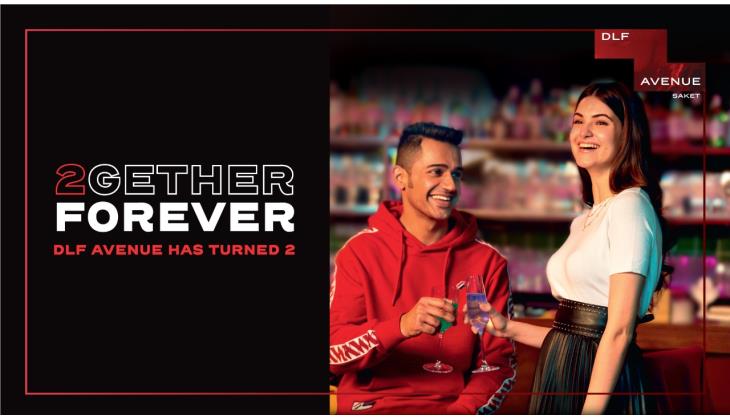 Delhi's favourite shopping, dining and cultural destination - DLF Avenue has recently turned two and is giving you many reasons to dance in joy, be happy and celebrate.
From 1+1 offers across the best restaurants in Delhi to exclusive shopping vouchers, DLF Avenue Saket has set the stage for a grand celebration and you can't most definitely afford to miss it.
Moreover, we get that you are as excited as us but let's stop for a moment and take it from the top. Stay with us till the end to know everything that DLF Avenue & the best places to eat in Delhi has in store for you this entire month.
DISCLAIMER: YOU ARE NOT PREPARED FOR WHAT'S COMING NEXT!
Before we disclose the nitty-gritty of what we have planned for you on our 2nd anniversary, it's important to give a fair cautionary warning that prepares for all the awesome things that are about to be sent in your direction.
And now that we have gotten the warning out of the way, we can finally move ahead with discussing this epic arrangement in detail.
DLF Avenue #2getherForever Campaign - What Should You Know?
DLF Avenue's 2nd anniversary will be twice as fun because the patrons will be rewarded handsomely for all their purchases throughout an entire month.
Shop For INR 10,000 & Earn Instant Rewards
Celebrate the 2nd anniversary of DLF Avenue by shopping your heart out. Shop for INR 10,000 and unlock rewards on shopping, dining and movie tickets. Also, it's important to note that even though the rewards are applicable on single-day shopping bills, still customers make most of their purchases by clubbing their bills together. And in order to ensure that you earn great rewards throughout the week, 1+1 offers have been made available from Monday to Friday only.
Get 1+1 On Your Orders At COMMONS
Attention foodies! You can now enjoy 1+1 offers on meals ordered from your favourite restaurants at COMMONS. And not just the best food in Delhi, 1+1 offers are available on alcoholic and non-alcoholic beverages as well.
However, it's important to note that the 1+1 offers at Commons can be availed at one of the participating restaurants only on the same day of shopping and can exclusively be enjoyed on selected menu items. Here are the full details on the best restaurants in Saket that are currently offering the 1+1 offer to their customers:
1+1 Offer Valid On: Soups and desserts
1+1 Offer Valid On: Soups and desserts
1+1 Offer Valid On: Hot Beverages
1+1 Offer Valid On: Mocktails
The Tangra Project
1+1 Offer Valid On: Alcohol
1+1 Offer Valid On: Appetizers
1+1 Offer Valid On: Wine and Beer
Doner & Gyros
1+1 Offer Valid On: Fries & Sides
1+1 Offer Valid On: Coffee/Lemonades/Desserts/Soups
1+1 Offer Valid On: Domestic liquor 4-8 pm
1+1 Offer Valid On: Cocktails and Mocktails
1+1 Offer Valid On: Soft beverages
1+1 Offer Valid On: Cocktails
1+1 Offer Valid On: Coffee
Get 1+1 on Movie Tickets by Cinepolis
We weren't kidding when we said that DLF Avenue's #2getherforever has everything you would need. With this special offer, movie lovers can win a free ticket to their favourite theatre- Cinepolis. So, it's about time you start looking for a companion who can now join you on your next movie date.
Also, we don't think an entire day of shopping can possibly be topped by anything else than a movie night with a special friend at Delhi's most famous movie theatre. However, make sure to act fast for the offer is valid for a limited time period only.
Win 1+1 Voucher Worth Rs.1,000
What is better than an entire day of shopping? More shopping! Shop your heart out at DLF Avenue to win 1+1 shopping vouchers worth Rs.1,000 on your shopping bill. Your rewards can be accessed across different shopping stores and allow you to supplement your shopping cart with more amazing purchases.
BIG SURPRISE: Two Lucky Shoppers Can Win a Microwave Oven From Croma
It's DLF Avenue's 2-years and that's why everything should be 2 times more rewarding. During #2getherforever, two lucky winners stand to win a brand new microwave oven from Croma. So, don't wait any longer, visit DLF Avenue this week and take home rewards across different categories.
...
With DLF Avenue, nothing can ever be enough. That's why this time we are going all out to ensure that you have a special time on our special day. However, it's important to note that the offer is valid between Monday to Friday only. So, don't wait for the weekend because the entire month is going to be legendary.