DLF Avenue
Larger than life experience,
in few words!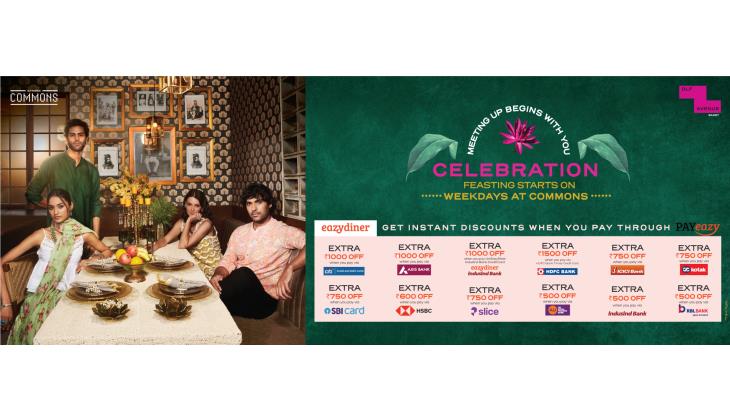 COMMONS at DLF Avenue Saket just made your weekends endless, with some exciting offers, can you smell what's cooking? Read below to get the hint of the scrumptious happenings at COMMONS
Do you feel that the fun in your life is just wrapped around weekends, COMMONS at DLF Avenue Saket is here to change that perception!
No matter if you have your own business or work as a corporate, one always thinks that he or she can have fun only on weekends, with all the weekend offers and extended happy hours that just limit us indulging in our favourite delicacies for only the two days. No more, COMMONS at DLF Avenue Saket is here to change this by bringing some exciting offers at your favourite eateries on weekdays.
Work from your favourite cafe sipping on your favourite brews, COMMONS at DLF Avenue Saket, normalising the norm, with Eazydiner offer using the Payeazy module
Indulge in your favourite food on weekdays too only at COMMONS in DLF Avenue. Just find your favourite cafe or restaurant on Eazydiner and pay using PayEazy and get various discounts and offers, go cashless plus get additional discounts and earn EazyPoints. Get ready to leave with full bellies and fuller wallets.
What is Eazydiner and PayEazy you ask? Read here
Eazydiner is a platform that is curated by some passionate foodies, chefs and hoteliers that gives you an outlook on new dining experiences and exciting cuisines. If you have questions like, where should I go to eat on a special occasion? What are the newest and top eateries in town? What is that one special thing I should absolutely try while visiting a particular restaurant? And above all, can I save some money while dining at some top restaurants, then Eazydiner has all the answers for the most enjoyable, authentic and hassle-free table booking experience.
So now you have an amazing place to get information on all your favourite restaurants, but where does COMMONS at DLF Avenue come to play here?
Well we have over 10 of Delhi's best known restaurants and cafes listed on Eazydiner, but you don't have to go anywhere to find those, we got the list ready for you. Here read below
You can get more than 20+ bank offers too, while paying through Payeazy to name a few,
Upto ₹1500 OFF - 15% discount on HDFC Times Platinum Credit Card per month. No min. bill value.
Upto ₹750 OFF - 15% discount on min. bill of ₹3000. Valid twice per month for Credit Cards.
Upto ₹750 OFF - 15% discount with AURUM, ELITE & PRIME Credit cards on min. bill of ₹3000. Valid once per month.
Up to ₹1000 OFF - 30% instant discount on No min. bill value. Valid once in 8 days with Kotak Mahindra Bank Everyday Rupay Debit Card
These are just a few of many money saving offers that you can avail while paying for your favoritie meals!
What is Eazydiner and PayEazy you ask? Read here
"What more do you need? We have got the best of deals that render you all the opportunities to satiate your food cravings and hunger pangs throughout the week!
Why put an end to your fun and food at the end of the weekend?
Visit COMMONS at DLF Avenue with your friends, family and colleagues throughout the week and go mad over all your favourite food and beverages without worrying about your wallet!