DLF Avenue
Larger than life experience,
in few words!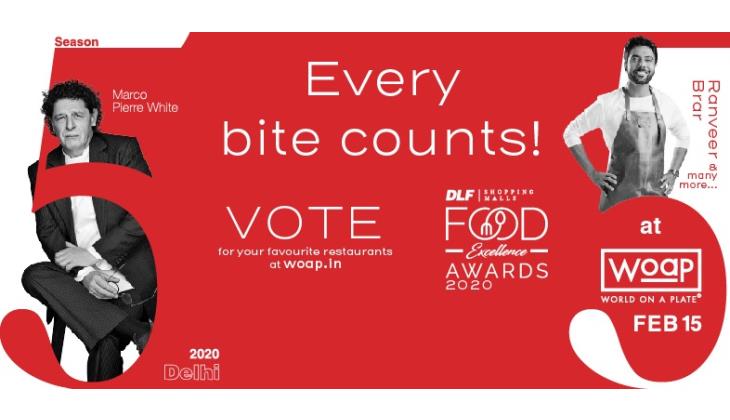 Over 200 plus Food & Beverage partners across malls have participated in 14 different categories
New Delhi, 4th February 2020: DLF Shopping Malls has announced the return of the Second Edition of DLF Food Excellence Awards 2020, as the flagship property envisions to recognize the "best-in-class" F&B brands and individuals. The award recognizes the ingenuity and sheer imagination of brands that have shaped the F&B industry and celebrates taste, quality, innovation and excellence in the sector with these awards.
The awards will take place on February 15th, 2020 at DLF Avenue, Saket. DLF Food Excellence Awards curated by World On A Plate, headlined by the legendary Chef Marco Pierre White, also known as "Godfather of Modern Cooking". The awards night will be hosted by Maria Goretti, she has hosted several TV shows including Do It Sweet on the NDTV Good Times channel and I Love Cooking on Living Foodz.
Commenting on the DLF Food Excellence Awards, Ms. Pushpa Bector, Executive Director, DLF Shopping Malls said, "We are proud to announce the Second Edition of DLF Food Excellence Awards curated by World On A Plate. We commenced the initiative last year and witnessed a tremendous response from our partner brands who participated with enthusiasm. As DLF Avenue comes back with a new look and vibe, culturally relevant experiences and a focused F&B curation. And what better place to host DLF FEA then DLF Avenue which is all set to become the new cultural landmark of the city. And curated by World on A Plate being the best platform for recognizing the contribution of our partners."
Speaking on the association, legendary Chef Marco Pierre White remarked, "I'm excited to come to Delhi the food capital of India for the first time ever, for all those great chefs who have delivered standards& worked hard to award them at DLF Avenue Saket. I am also here to discover its exquisite cuisine and meet the lovely people of the city. I am excited to witness the city's best restaurants, patisseries and bars, masterclasses, live music, tete-a-tete this February the season of love. So, let's spend it together over some delicious food.
With a total of over 150 plus nominations already received across 14 categories for this year's glittering event, the Awards promises to be a night to remember. From artisan kitchens to innovative street food, and gastro pubs to gourmet restaurants, individuals and restaurants offering impressive gastronomic delicacies, these awards will have it all.
Muckth Dograa, Centre Head, DLF Avenue Saket added, "We take pride in hosting the DLF Food Excellence Awards 2020 at DLF Avenue. The focus of the mall is on integrated experiences for Shopping, Dining and Culture, making it a perfect destination to host the awards. Our dedicated food curation space 'The Commons', soon to open, will offer consumers a completely new and unique experience with best of world cuisines
The Awards will be divided into two categories - Popular Choice and Critic Awards which will be assessed by a panel of eminent jury members. The event will also see the presence of some of the most prominent people from the F&B industry. The Award Night has been scheduled for Saturday 15th February 2020, 8 PM Onwards DLF AVENUE, SAKET.
Maria Goretti, added, "It's always a pleasure to be associated with World on a plate and last year I did a wonderful workshop with them, this year of course, I'm coming back in the avatar as a presenter and host for DLF Excellence awards 2020 which is going to be a lot of fun because the awards are for the best in the business, being a chef myself and being so closely connected to food, its completely a pleasure to be associated with World On A Plate because I think they are doing such great work and I am really happy to be associated with them"
DLF Food Excellence Awards is scheduled to be held at 'LIVE at DLF Avenue' the city's largest outdoor plaza which will have cultural curations including music, art, live sports and street food from across the country. The Awards is all set to offer sumptuous cuisines not only from across the globe, but also from leading Indian home-grown brands.
At DLF Shopping Malls, housing more than 184+ unique F&B brands, 53+ innovative food kiosks and 27+ bars & microbreweries, one can experience a sensational dining experience. Each restaurant is ideal for expressing a whole culture, be it East Asian, Modern European, Oriental and Turkish, Iranian or Mexican. Being the trend setter for F&B and entertainment in the national capital, they are known for bringing in new and innovative concepts in fine dining, casual dining, quick service restaurants and cafes.
About DLF Food Excellence Awards
DLF Shopping Malls has lead the F&B trend and has been the pioneer in incubating & hosting one of the most unique and innovative brands across the globe, including some of the leading home-grown brands of the country. To further recognize & celebrate the exceptional & best-in-class of F&B industry, DLF has initiated the Annual DLF Food Excellence Awards 2020.