DLF Avenue
Larger than life experience,
in few words!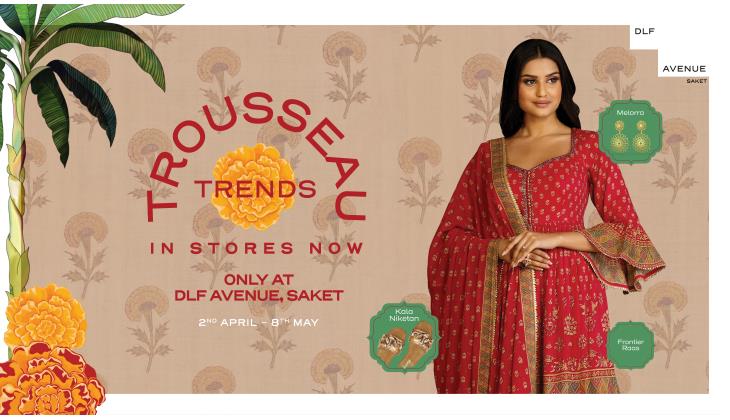 Preparing a bridal trousseau is an exciting but equally important pre-wedding chore that every bride wants to get just right. However, sometimes curating the perfect trousseau can get really overwhelming, with so many options, ideas and choices, one can easily get confused. If you are getting married yourself or if you have to plan for a forthcoming wedding at home, shopping for such events can always be a hard nut to crack.
That's why DLF Avenue Saket have made some special arrangements to help you shop nothing but trends for your bridal trousseau across different stores. And that's not all, shopping from your favourite stores at DLF Avenue has just become more gratifying as you can win big prizes on your shopping cart.
And not just brides but relatives, bridesmaids, close friends and family members can also shop from stores like Ritu Kumar, Mellora, Frontier Raas, Kala Niketan and many more to enjoy an excitingly rewarding shopping experience. Also, make most of the bonus gifts, vouchers and prizes by really shopping your heart out.
BIG NEWS - TROUSSEAU TREND, LIVE IN STORES FOR BRIDES, RELATIVES & FRIENDS
Trousseau trends are now live at DLF Avenue and shoppers visiting till 8th May '22 can continue to win jumbo prizes such as shopping vouchers, exclusive gifts, movie tickets, and a lot more.
It's the time of the year at DLF Avenue for all brides and family members who are currently shopping for their big day. Apart from adding trendy clothing & accessory items to their bridal trousseau, brides-to-be can also build on their shopping experience by enjoying some memorable gift vouchers all across the coming month.
VISIT DLF AVENUE TODAY & GET ASSURED GIFTS!
When things are offered in such great volume then it gets really easy to skip over the details but we certainly don't wish to do anything of that sort.
Therefore, we have made sure to go across every little detail one by one to give you a clear picture of everything that you stand to win at DLF Avenue this wedding season.
Shop for Rs.10,000 every day & Win Vouchers Worth Rs.3000
There is not a single scenario that more perfectly justifies the statement - SHOP MORE, WIN MORE than this one. We all know how successfully shopping for bridal trousseaus and weddings, in general, requires getting past a long list of elements and accessories.
Shopping for more than Rs.10,000 during the wedding season is never a big task and now you can make most of your long wedding shopping bills by winning shopping vouchers worth Rs.3000 on them.
Just make sure to show up for purchase at any one of your favourite DLF Avenue shopping stores and take home assured gift vouchers in the process.
Win Exclusive Gifts From Nature's Basket
Not just vouchers but also some exclusive goodies from the house of Nature's Basket are also up for grabs. There is nothing that can make you feel more special and rewarded than an exclusive gift hamper offered from one of India's most amazing premium grocery stores.
And the best part about the entire deal is that you don't have to make an extra effort to win these prizes. Just shop for what you need and win assured gifts in return.
Win Couple Movie Tickets From Cinepolis
All work and no play can make not just Jack but anyone a dull boy. That's why, we have prepared a special cinema outing at Cinepolis, DLF Avenue for couples, friends and family members who have spent a long hard day trying to get at the bottom of their shopping lists.
There is nothing more rewarding than a comforting movie night spent with your loved one at the end of a long and tiring shopping day. And that's exactly why you should definitely show up at DLF Avenue to shop for your bridal trousseau today.
SHOP MORE TO WIN MORE!
Wedding shopping at DLF Avenue, Saket is nothing short of celebrating a festival and when celebrations are concerned there shouldn't be any insufficiency of grand prizes and big surprises. Here are some grand prizes that shoppers stand to win during the Trousseau Trends fest at DLF Avenue.
1st Prize - JBL Party Box
Make some noise for the highest shopper as being one can lead you to win a rip-roaringly fantastic JBL party box. Visit DLF Avenue and bring home a party box to thoroughly prepare for the forthcoming celebrations.
2nd Prize - Staycation at Hotel Hilton Garden Inn
Let yourself off the hook and take a pause from the overbearing wedding preparations by enjoying a relaxing staycation at Hotel Garden Inn. Just make sure to be the second-highest shopper during the Trousseau Trends fest and take home a nice vacation that you didn't know you needed yet.
3rd Prize - Dining Experience at Commons, DLF Avenue
Enjoy a memorable dining experience at one of the best restaurants in Saket by becoming the third-highest shopper. A dreamy meal time is awaiting your presence at the Aviary Cocktail in Commons. Compliment your day after shopping with a delicious meal at Commons, DLF Avenue.
…
Every girl has a special place in her heart for their bridal trousseau and we at DLF Avenue are making completely sure that every bride-to-be who is currently in the process of planning her trousseau should enjoy her experience to the fullest.
See you at the stores! :)
T&C Apply:
Shopping bills of single day applicable and can be clubbed together.
Not applicable on shopping from Tanishq/Forevermark and Futureworld.
Vouchers conditions apply.
Gifts cannot be encashed/exchanged/upgraded.
Multiple entries for highest shopping permissible.
In case of any disputes, decision of the mall management applies.