DLF Avenue
Larger than life experience,
in few words!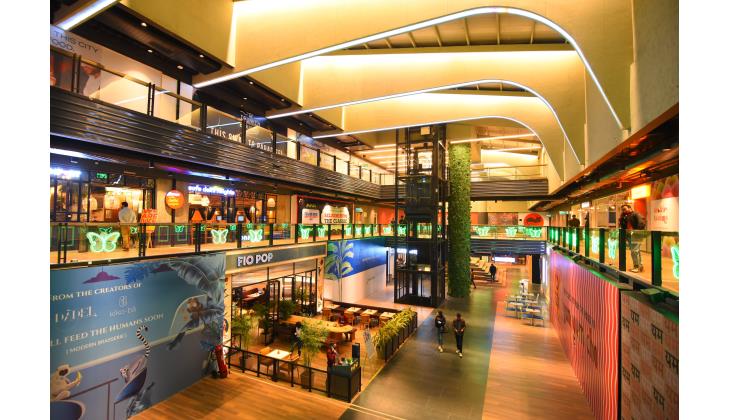 When one thinks about creating the ultimate food experience, you don't just limit yourself to taste and flavours, rather you tend to consider a bunch of other factors that are somewhat invisible to the untrained eye but works a great deal in making the experience memorable and cherish-able
And post considering all such hidden factors, Commons at DLF Avenue has been successful in going above and beyond in its pursuit of hosting matchless food experiences for the entire city. However, if you are still speculative about what makes Commons at DLF Avenue the best food spot in the city then quickly pat yourself on the back as you have arrived at the right place!
Stay tuned till the end to get answers to all your questions and discover the top 7 reasons why Commons at DLF Avenue has the best food experience in Delhi.
Something For EVERYONE!
Nobody likes a place that offers too little choices. Commons at DLF Avenue has been planned in such a way that it effectively hosts an all-embracing food experience that disappoints no one. From quick coffees & lazy brunches to elaborate late night dinners, one can enjoy the whole shebang under the one giant roof at DLF Avenue.
Global Meets Local
If you are someone who is particularly interested in getting the taste of the world's most famous cuisines on your plate in Delhi then Commons at DLF Avenue is the answer to all your prayers. With food places like Mai Bao, FIO POP, Chilli's & Ping's Café Orient, Laid Back Cafe, Commons has been able to serve food experiences that evenly caters to European, American & South East Asian, Mediterranean cuisines. Also, restaurants like Savya Rasa & Mahabelly stand tall to uphold the flavourful richness of the authentic South Indian taste.
More Than Just Food
Anyone who's visiting Commons at DLF Avenue is not expected to stop at food. On the contrary, patrons are encouraged to indulge in this immersive experience that practically combines food with entertainment. Sure, we'd expect you to come for the food but we count on our ability to host a good time to make you stay for our events, theatres, shopping stores and other recreational activities with strong social connect. The secret ingredient to curating the best food experience lies in going to infinity and beyond!
Nothing But The BEST
When we talk about leaving no stones unturned in our attempt to deliver the best food experience in Delhi we don't just say it. That's why we have sheltered nothing but the best of restaurants and cafes that are being looked over by expert chefs who have curated menus that can take any taste palette for a flavoursome ride. Restaurants like Soy Soi, Dhaba, Barbecue Nation, Cafe Delhi Heights are some of the names that further underscore this notion.
Easy to reach well connected by road and metro
There is no point in hosting the most amazing restaurants and cafes in the city if no one can reach you. And not just reaching but the place should be easily accessible for people around the city. The nearest metro station- Malviya Nagar Metro Station is just a kilometer away, Commons at DLF Avenue certainly fulfils both these criteria. Moreover, the place has reserved parking spaces for women and senior citizens making it highly convenient for all.
Instagrammable food places
With a tagline like "Where Food Is Fashion" Commons at DLF Avenue has obviously gone the extra mile in ensuring that the aesthetic quotient of the place stays reasonably high. And if you are someone who appreciates spaces that offer eye-pleasing photo opportunities then get ready to strike a pose as the new space has a stimulating ambience with refreshed and upbeat interiors of all the restaurants that make up for a perfect instagram post you are looking for.
Concept of a Social Steps
This is a first of a kind concept seen at any such space in the capital. DLF Avenue Commons which is an urban architectural element. Work on your laptop with your favourite coffee by your side or wait in style for your friends while catching up with some live acts, or simply enjoy your own company- these steps are very versatile and add to a new dimension to this unique space.
These were the top 7 reasons why Commons at DLF Avenue is known for hosting the best food experience in Delhi. And we are sure that you can find some new ones on your next visit as well.