DLF Avenue
Larger than life experience,
in few words!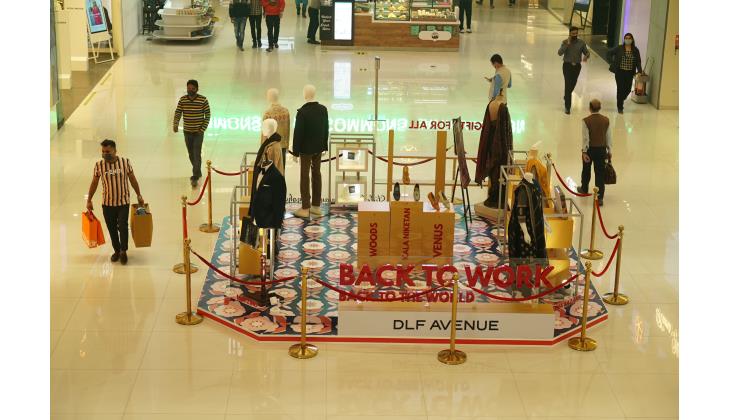 One does not simply visit DLF Avenue and leave without finding what one wants. Earning a name for harbouring the most complete shopping experience in the city, DLF Avenue is a safe haven for shoppers with all sorts of shopping lists and requirements.
From top tier fashion brands to many homegrown labels, the retail end of the mall is perfectly sufficient in bringing a smile to the face of every shopper who is looking for going back to office!. The stores have a range of workwear for shoppers to choose from that effectively help you achieve the perfect office look.
All that and a lot more will be discussed in the article, so buckle up and sit tight for we are going to drop many big secrets on why you should most definitely visit the DLF Avenue Mall to shop for your workwear outfits.
DLF Avenue Mall Has a Fashion Store For All Your Shopping Needs
Finding the right fashion store that complements your clothing needs can be a tough task and in addition to that finding a store for something as specific as workwear can be extremely difficult. That's why it's advisable that you shop from a place that offers a long range of options in clothing categories and in brands as well.
And what's a better place for that than DLF Avenue Mall. With several fashion stores, the mall puts forward a shopping experience that ranges from being enjoyable to totally incredible. From western to modern Indian ethnic, the mall has got you covered on all occasions at your workplace!
Top 8 Workwear Brands At DLF Avenue Mall
Marks & Spencer
Known for being one of the most renowned affordable shopping brands that offer the look and feel of a premium fashion label, Marks & Spencer at DLF Avenue is a special store that houses some of the best collections of blouses, trousers, pants, jackets and leggings. Be it a power suit or a long skirt, Marks & Spencer is perfect for all major workwear outfits.
Where to find : Ground & First Floor
Uniqlo
Uniqlo at DLF Avenue Mall is known for being the most reliable and dependable clothing store that brings the latest fashion trends within the reach. After making a name for itself in the comfy casual department, the brand has now made great progress with its evocative work wear range. If you wish to infuse a touch of simplicity and warmth into your everyday office wardrobe then Uniqlo is one store that you should definitely visit.
Where to find: Ground & First Floor
Perona
With their unique and stylish leather outfits, Preona at DLF Avenue has taken power dressing to a different level. Embracing a sustainable mindset, the brand has vowed to put forward clothing options that take into consideration the well-being of our planet and pivots the world towards a better future. Visit the store today to shop for some of the most unique and stylish work wear outfits.
Updated Classics for a thoughtful audience. Premium Fabrics & Leathers sourced for their purity.
Where to find: Ground Floor
American Eagle
After making a distinct name for itself in over 24 countries, American Eagle has now become an exclusive part of your neighborhood at the DLF Avenue Mall. Known for introducing some of the most iconic fashion trends to the general public, the American Eagle holds the power to bless your everyday office look with its extensive range of semi-formal skirts, dresses, sweaters and much more. Also, make sure to try out their amazing accessory & footwear section as well.
Where to find: Ground Floor
ONLY
Even though ONLY has earned high recognition for its cool and stylish denim collection, the store at DLF Avenue also has a fairly impressive workwear collection as well. Anyone who's looking to achieve an uber-cool semi-formal look during their next office meeting should totally checkout their latest workwear collection at the DLF Avenue Mall.
Where to find: Ground Floor
Vero Moda
Ever since its inception in 1984, Vero Moda as a fashion brand has become synonymous with phrases like stylish, classy and sophisticated. Making a name across the globe for being the biggest clothing brand in Europe, Vero Moda helps its customers attain a sense of confidence, comfort and compassion - three critical things that you must have to make it big in your professional career.
Where to find: Ground Floor
Forever 21
A brand particularly known for economical fast-fashion clothing - Forever 21 also showcases an outstanding range of workwear clothing as well. Young professionals who have just joined a job will especially love their latest collection of dresses, blazers and trousers and the economical prices that come with them.
Where to find: Ground & First Floor
Arrow
Fashion plays a major role in the entire journey that a boy takes in becoming a man. And a brand like Arrow has always been at the forefront of a change that helps men dress smartly for their first pitch or a board meeting. With a shirt collection that makes you go AWE, the Arrow store at DLF Avenue has to be your first and only pit stop for buying a smart workwear outfit.
Where to find: First Floor
Apart from these there are brands like Minzmo, Nautica, Jack & Jones, Replay for men wear where business suits to up to date collection for 'work' is available.
For those who like to dress up in modern Indian wear to work, they should definitely check out the collection available at Frontier Raas, Suvasa, House of Raisons, Kalpana, Meena Bazaar for sarees, suits, stoles and shawls.
...
In addition to the latest collection, at DLF Avenue you earn instant rewards for shopping starting at just INR 10,000. Shoppers get a surprise gift and Cinepolis movie tickets and on shopping for INR 20, 000 shoppers can get a gorgeous makeover at M.A.C store located inside the mall.
Even though we absolutely love it when our visitors explore the mall on their own, still we will like to help in your future shopping endeavours. That's why we furnish prior advice to all our lovely readers who are planning to show up in the upcoming weeks.
For all the special occasions, we have a lot in store for you and it will be better if you can just show up at the right place at the right time!