DLF Avenue
Larger than life experience,
in few words!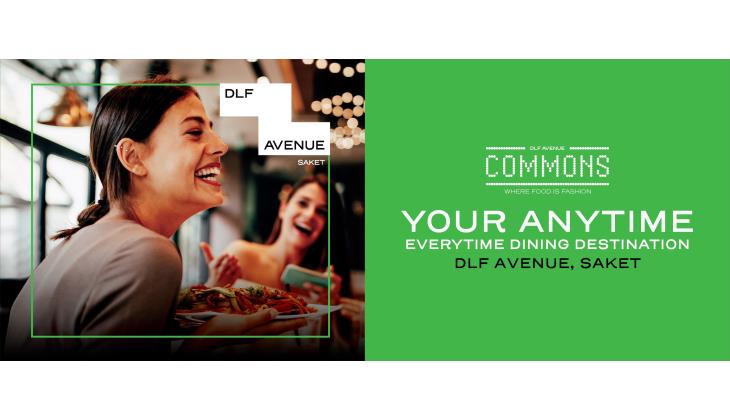 It is popularly known that success is best when it's shared. And this popular notion is exactly what makes working in a team a truly spectacular experience through and through. However, if hard work isn't properly rewarded then the entire team can feel burned out and overworked.
That's why we have taken it upon ourselves to make sure that your team stays overcharged with passion and excitement throughout the entire week. At DLF Avenue COMMONS, we have some of the best restaurants in Delhi that help curate a one of its kind dining and beverage experience that helps soak all your work stress and makes way for a memorable team lunch experience.
With flavours from around the world being served under one giant roof, it's safe to say that COMMONS has a place for every taste and occasion consequently making it the perfect place for your next team lunch. Read till the end to check out the top 5 most popular team lunch spots that serve the best food in Delhi.
Chilli's
Chilli's at COMMONS is known for being one of the best restaurants in Saket that not just serves great food but also gives out an ultracool urbane vibe. With burgers that are too big to handle and pitchers that overflow with delicious beverages, Chilli's puts forward an experience that makes way for lots of joy, memories and stories. A must-visit spot for your next team lunch!
Cuisine: American, Mexican & Italian
Popular Dishes: Triple Dipper Platter, Southern Smokehouse Burger & Molten Chocolate Chunk
Where to find: 161 A - 163, COMMONS - Ground Floor
The Big Chill Cafe
If Chilli's stands for a flavourful passion trip, The Big Chill Cafe at COMMONS embraces a dining experience that is full of style and suave. Earning a name for being the busiest food spot in the capital, The Big Chill Cafe stands apart from all its contemporaries in terms of taste, ambience and service. It's certainly a unique experience that you should totally enjoy with your entire team.
Cuisine: Continental
Popular dishes: Mississippi Mud Pie, Penne Vodka Pasta & Cold Coffee Shake
Where to find: 170 B - 170 C, COMMONS - Ground Floor
Barbecue Nation
What more can be said about a place that has already grossed a remarkable reputation for being the bonafide big gathering food spot of the country. From its incredible live grill concept to its delicious food menu, Barbecue Nation at DLF Avenue is not just a restaurant, rather it's a happiness manufacturer that works on special occasions to give out good memories.
Cuisine: North India
Popular dishes: Tangdi Kabab, Fried Corn & Masala Cola
Where to find: M - A04, Ground Floor
Cafe Delhi Heights
If your idea of a perfect team lunch includes mouth-watering food, happy faces and loads of fun then Cafe Delhi Heights at COMMONS is the place for you. Acclaimed highly for being an awesome comfort eating place, Cafe Delhi Heights beat-for-beat encapsulates the real "Dilli" vibe and offers an experience that is one for the office walls and Instagram stories.
Cuisine: North India, Continental & Chinese
Popular dishes: Cannelloni Pasta, Nachos Grande & Chinese Hot N Sour
Where to find: 222 - 224, COMMONS - First Floor
Laidback Cafe
As the name suggests, Laidback Cafe at COMMONS is one eating place that thoroughly complements your post-workday mood with an atmosphere that is relaxing and chilling. However, their scrumptious dishes and zingy beverages offset the restrained ambient vibe and set the stage for a mouth blasting flavour fest.
Cuisine: Continental, North Indian, & Asian
Popular dishes: The Big Mutton Burger & Grill Fished Sticks
Where to find: 240 - 241, COMMONS - First Floor
Dhaba
Check out Dhaba at Commons during your next team lunch outing and travel back in time with their classic food menu and the quintessential Indian vibe that the place has to offer. Known for being a high of punjabiness food place, Dhaba orchestrates a magical dining experience that is highly unique but still incredibly popular.
Cuisine: Mughlai & North Indian
Popular dishes: Dhaba Paneer Tikka & Tawa Mutton
Where to find: 225 - 226, COMMONS - First Floor
Soy Soi
Like other lunch spots on the list, Soy Soi doesn't only address a special cuisine and cooking style, rather the place also reflects the finer details of the rich South Asian culture to put forward a food experience like no other. With a food menu that includes delicacies from street kitchens of cities like Singapore, Bali, Kuala Lumpur, Bangkok and others, Soy Soi takes you on a mouth-watering food journey that makes your lunch outing an unforgettable adventure.
Cuisine: Asian, Oriental & Seafood
Popular dishes: Chicken Katsu Maki Sushi, Spicy Chicken Celery Dimsums & Spring Rolls
Where to find: 227 - 228, COMMONS - First Floor
Savya Rasa
Savya Rasa is one of the only places in Delhi that has perfectly encapsulated the sense and style of authentic South Indian cuisine. With a menu that is inspired by the seven major culinary regions of South India, Savya Rasa hosts a delightful experience for anyone who shares a deep affection for authentic South Indian food.
Cuisine: South Indian, Chettinad & Mangalorean
Popular dishes: Thengai Paal Rasam & Chettinadu Paniyaram
Where to find: 242, COMMONS - First Floor
As opposed to being a place that is only known for a single thing, DLF Avenue as a mall is one place in Delhi that offers a wholesome 360 degree experience. Right from shopping stores and restaurants to cinemas and events, the place puts forward a collection of exciting activities that can be pursued throughout the entire mall.
And if you are looking for memorable ways to celebrate a special day at some of the best restaurants in Saket with your colleagues then you should most definitely plan to make your entire team available for the entire adventure.