DLF Avenue
Larger than life experience,
in few words!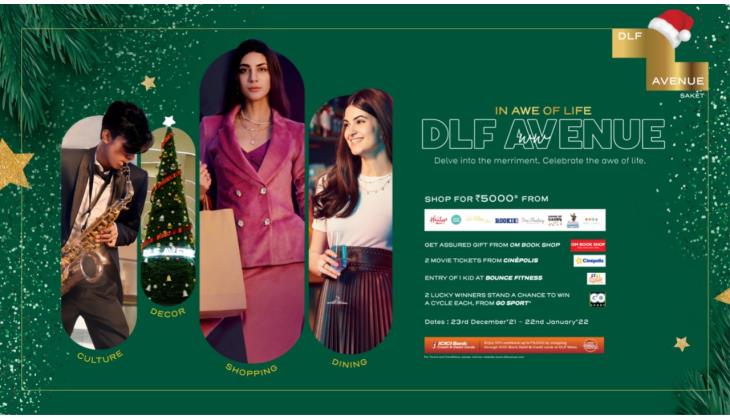 It's that time of the year again! And because a wondrous celebration has been long overdue, it only makes sense to celebrate the end of year festivities at a magnitude of the highest order.
We know that DLF Avenue Mall at Saket has earned a reputation for hosting some of the biggest events in Delhi but now the place has gone above and beyond in curating a holistic experience that oscillates gloriously across shopping, dining and culture - all this and much more is currently on the horizon at DLF Avenue Mall this month.
Now we don't wish to reveal the entire surprise at once because "where's the fun in that? so stick with us till the end to know everything about what we have prepared for you this entire month.
A little forewarning: YOU ARE NOT READY FOR WHAT'S COMING!
This winter, delve into the merriment & celebrate the awe of life exclusively at DLF Avenue Mall, Saket. Let's go over all the departments one by one to witness what's waiting to unfold at your favourite mall in the city.
Decor:
40ft Christmas tree is going to be the inevitable showstopper
You heard us right, a forty feet friend will be waiting for your presence around the Christmas time. In addition, the entire place will be taken over by the infectious Christmassy vibe that will make your heart melt and your eyes gleam at the same time.
Our team has gone the extra mile in ensuring that you and all your loved ones get into the spirit of festivities & happiness as soon as you walk in from the front door. So try not to keep us waiting any longer!
Shopping:
Enjoy great offers on your shopping across Indian & International brands
There's no denying the fact that end of year festivities and shopping go hand in hand. That's why it's crucial that you shop your heart out across your favourite brands and stores.
There is a special promotion launched by DLF Avenue for kids holiday shopping. Shop fir just INR 5000 from any of the kids brands such as Hamleys, Les Petits Legers, Mini Klub, One Friday, Rookie USA located at the second floor and get assured gift from Om Book Shop, 2 tickets from Cinepolis, free entry of 1 kid to Bounce Fitness indoor trampoline park. Also 2 lucky winners stand a chance to win cycles each from Go Sport!
Apart from this, there are year end discounts and offers at some of your favourite brands such as Marks & Spencer, Forever 21, Nautica, American Eagle, Uniqlo and many more making shopping for all fashion needs a completely satisfying experience.
So, Christmas or new year, this year or next year, DLF Avenue has fixed shopping needs for all occasions under a single roof.
Dining:
Commons at DLF Avenue Mall will be the perfect spot for being with your loved ones
Here is a big surprise for all foodies who love to enjoy delicious dishes and tasty conversations at Commons, DLF Avenue on a daily basis. Food, flavours and fun play central roles in the orchestration of any memorable celebration and when the event in question is the biggest end of year celebration in the city then Commons at DLV Avenue is one stop destination to enjoy meals at your favourite restaurants with friends and family.
Culture:
Christmas carols, Live performances & much more is in store this year
From singing Christmas carols with your family to letting it loose on peppy numbers with your friends, the stage is set for all kinds of fun activities and we are sure that it's going to be a full blast experience.
Other than shopping & dining, DLF Avenue's ability to put forward a rich cultural experience is what makes it a must-visit destination for people all across Delhi and North India. And this end of year season, the place has topped your wildest imaginations with a relentless adventure that keeps on giving.
So be prepared to get high on dopamine because we at DLF Avenue are injecting the atmosphere with some real party spirit this year. See you soon!
We Are Not Done Yet!
Do you feel really tired already? Well, catch a quick breather for we are not even close to being done. We promised you the biggest end of year celebrations and we were definitely not joking. So, here are some other special events that will soon go live and can be enjoyed by you in the coming days.
Christmas Carol Chair
Time: 5 PM - 7 PM
Date: 23rd - 25th December
Get your Christmas spirits level up with our special Christmas Carol sessions that will take place all throughout the merry season week. Bring your little ones for it will be a great time to learn something new about the festival of goodness and hope.
...
At DLF Avenue we strongly believe that sky is not the limit. That's why every year we make sure to best our last year preparations to curate for our visitors the most complete experience. And this year we have gone way past our expectations and have been able to develop something that will stay with you forever. This festive season, don't bother knocking because you are always welcome :)