DLF Avenue
Larger than life experience,
in few words!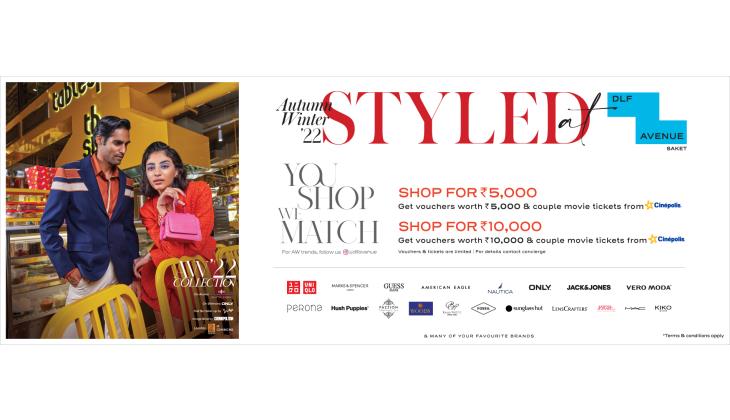 From dresses to pants, hats to socks, capes to coats. If you have travel plans in the cold winter months, or if you are looking for something formal or informal, indoor or outdoor. Winter becomes a conflict when it boils down to the question, what should I wear? But do you know, winters are actually interesting to style up and play with your favorite colors! DLF Avenue will add colors to your grey winters. Read below
Winter is all about covering up and layering yourself right? But let's not layer your style instead lets make this layering a style for you. Let DLF Avenue take care of all your winter wearables!
This autumn winter season, shop at the hottest fashion destination!
DLF Avenue, is all set to welcome Delhi's favourite season with an extraordinary flair. Winter brings a myriad of challenges. How do you look all stylish being all layered up and completely covered? Oh and what will you wear to that Christmas party? Don't shiver over such scares just read on and let DLF Avenue take care of all these things.
Don't frown, we do have offers for you. With fashion be ready to win exciting rewards! DLF Avenue will surely add warm smiles to your face
Housing the most loved brands such as Uniqlo, Marks & Spencer, Guess, American Eagle, Nautica, ONLY, Jack & Jones among others, it also houses distinguished homegrown labels such as S&N by Shantanu and Nikhil, Ritu Kumar and Perona.
Check out the capital's most sought after address to elevate your autumn winter style.
With all your favourite brands under one roof, one has so much variety to choose from that you are spoiled for choices.
Let's see what the brands at DLF Avenue have to offer this Autumn Winter Collection!
Jumping straight to the offer now! You shop, we match!
Shop for INR 5000 and get vouchers worth INR 5000 and couple movie tickets from Cinépolis, Similarly Shop for INR 10000 and get vouchers worth INR 10000 and couple movie tickets from Cinépolis.
A point to note here would be that the vouchers and tickets are limited
So then what are you waiting for? Just hop and shop on. DLF Avenue will take care of your entire winter fashion!